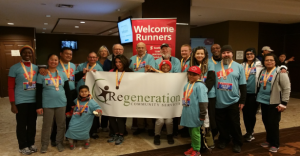 Team Regeneration CS participated at the annual Scotiabank Toronto Waterfront Marathon 2015 event for the second year in a row. The Team Run and Walked 5K on Sunday October 18, 2015. The day was a success, filled with team spirit, high energy fun that ended with a Brunch Buffet Celebration. The Team raised $5,630.00 for Regen's Rainy Day Fund, Educational and Employment Programs.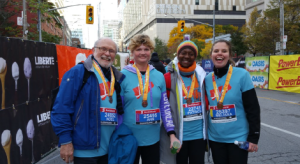 Many thanks to all who generously donated to Regen and to those that participated in the 5K Run/Walk including:
SHPPSU Program: Samantha
Anderson House: Ann, Sheryl & Family; The ARCH: Ann, Cherry, Pilar;
Board: Seth-Adrian & Family, Rob, Ann
ICM CAMH/St.Joe's: Azy, Emily, Patricia Management: Noel, Richard; Peer Support: Andrea & Family, Scott;
Step Up Members: Dave, Richard; Temple: Susan.
All Regen Members, Board, Staff and Family are Welcome to join Team Regeneration CS next year at the 2016 event!