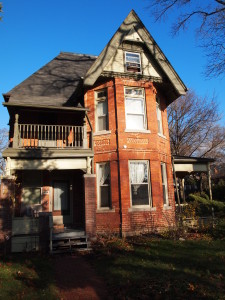 Please note that all referrals to Regeneration Community Services must be submitted through the AccessPoint. The form can be accessed either online (http://theaccesspoint.ca/) or by downloading the hard copy.
HOUSING: Congregate Living

Regeneration Community Services has six congregate living houses in Toronto: five in the Junction/High Park neighborhood, and one in the east end near Woodbine and Gerrard. Two houses are mixed-gender, another two are all-male, and one is an all-female residence. All members of the congregate living program have their own bedroom with a locking door, and share common living spaces. As support staff are not tied to a site, members of the congregate living program must be able to maintain their own room, shop and cook for themselves, manage their own medication regimen, and contribute to collective household chores. Tenants at one congregate residence have a cooperative grocery shopping system and share cooking responsibilities.
Referral for our housing program, which includes case management support, is through the centralized wait list at The Access Point. Details for admissions requirements are available on The Access Point website (www.theaccesspoint.ca) or by calling (416) 640-1934.