Regeneration Community Services (RCS) is a charitable not-for-profit community based mental health and addictions organization providing affordable supportive housing and case management services for adults with serious mental health and/or addiction issues.
History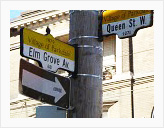 Since 1977 Regeneration Community Services has been firmly committed to providing safe clean affordable supportive housing to persons with mental health and addiction issues in Toronto.
We provide a range of supportive housing from independent apartments to 24 hour high support. Over this same time span we have enhanced our community supports through our intensive case management program. We have an extensive employment program including our social purpose enterprise, the Steam Team, and a developing Peer Support initiative. This extensive and varied community involvement has been the driving force behind the expansion and development of RCS while still acknowledging our roots in Supportive Housing.
Our Programs are based in Recovery Philosophy. We support our members in achieving their goals and meeting their needs.
No Matter who you are,
No Matter where you go in life,
You're goin' to need somebody
To stand by you….
'Stand By Me' is a famous song but it is also a simple request from our members who we support in their recovery from mental illness and addictions. Some of our clients need supportive housing, others need a tireless advocate to help them with their challenges and others need to know we are there for them when they need us. Just like you and me, they all need support in difficult times.